Description
Introducing the Ultimate Coin Shop! 
Take your server to the next level with this feature-rich and customizable script. Reward your players for their  contributions, loyalty, and gameplay while keeping them engaged and coming back for more!
Preview: https://www.youtube.com/watch?v=et6rf7WrFV8


Requirements
ox_lib
Framework (ESX or ESX Legacy or QBCore)
Inventory System ( qb, ox, quasar, etc…)
Key features of the Ultimate Coin Shop Script:
1. Incentivize Purchases and Play Time: Reward players with in-server currency for purchasing or playing on your server for a set amount of time, fostering a supportive community and encouraging frequent visits.
2. Highly Customizable Config File: Tailor your menus, packages, and Info page directly from the Config file. Create an info page using markdown or provide your own HTML according to your needs and preferences.
3. Effortless Custom Functionality: The script enables you to create custom product types with server-specific logic, allowing you or your developers to add unique twists and features effortlessly.
4. Mystery Boxes: Engage your players by offering mystery boxes with random items. Customize or disable this feature to best suit your server's needs.
5. Tebex Redeem Function: Provide a seamless experience for players to redeem their purchases directly on your server, with the option to disable this feature if desired.
6. Role-Based Access (LuxuDiscordBot Integration): If your server runs on d o n a t i on s, you can restrict access to the Coin Shop to players with special roles, provided you have LuxuDiscordBot.
7. Wide Array of Items: Allow players to buy weapons, cars, and any other items you wish to sell in the Coin Shop, catering to various preferences and play styles.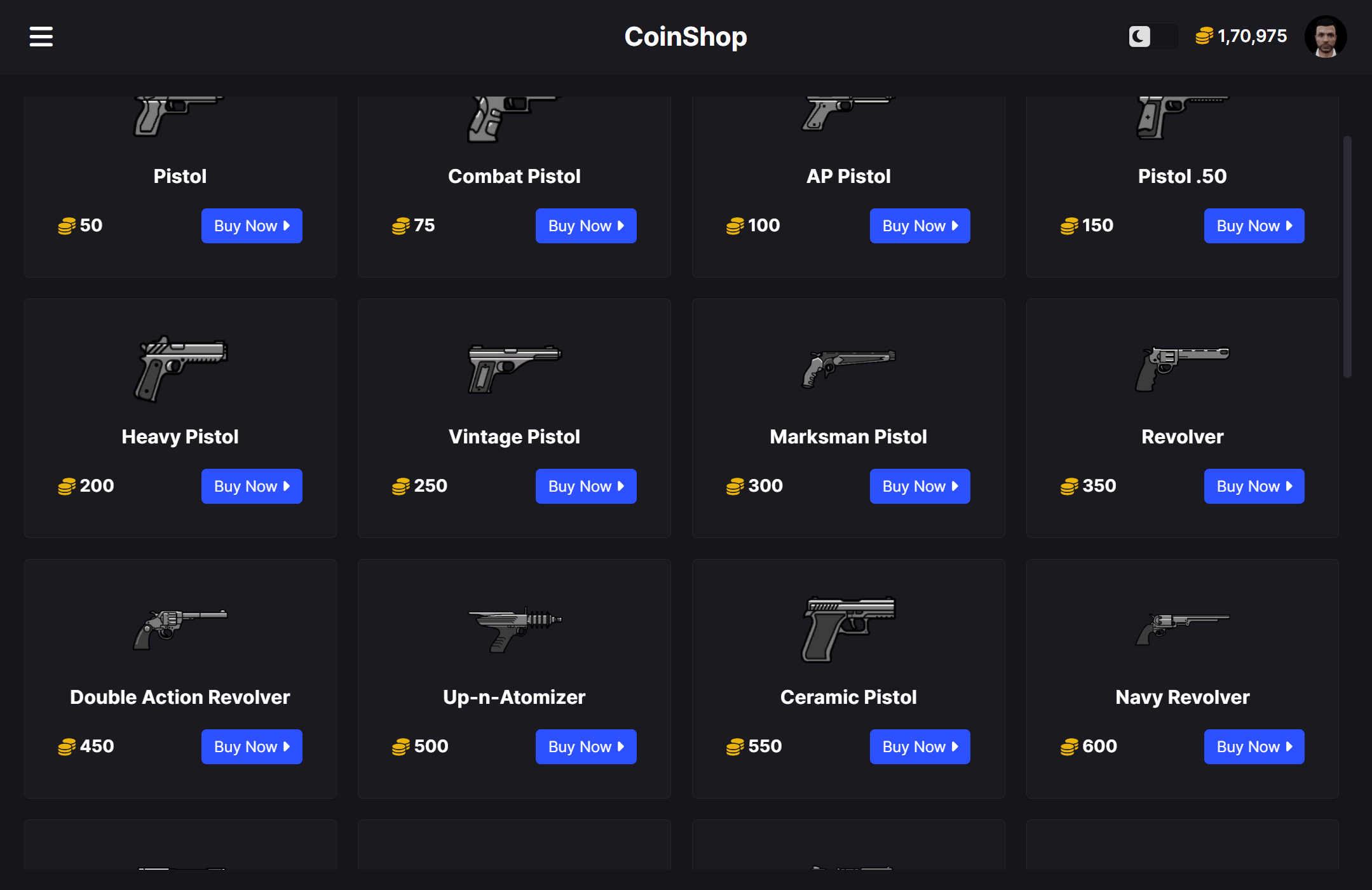 [Disclaimer]
Use this script at your own risk. Neither the developer nor the distributor of this script assumes responsibility for any damaging consequences. Unauthorized activities that breach FiveM / CFX terms of service may result in serious consequences.
This script is highly versatile and you may disable functions related to gambling (such as case openings) if you prefer not to use them.
Please note that this script does not include a payment processor, nor has it been created with that functionality designed into it.
There is an optional feature for verifying your server's Tebex payments, but this can also be disabled if not necessary.
Please understand that all transactions happening through this script are purely fictitious, meant only to be used with in-game currency and do not involve real-world financial transactions.